Bodegas Barón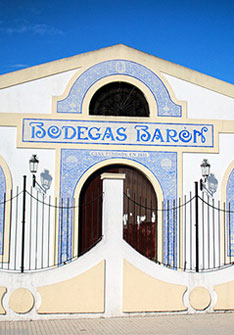 After more than 4 centuries producing Manzanilla in Sanlúcar de Barrameda, Bodega Barón recently started a new branch in La Rioja.
The origins of Bodegas Barón go back to the XVIIth century. Created in Jerez de la Frontera by the Romero de la Balsa family, the company then passed into the hands of the Barón Romero dynasty, who owned it for over 300 years. In 1984, Don José Rodríguez Jiménez bought it and decided to change both the winemaking and the business approach. Among other things, he began producing wine from the excellent Viña Parpalana vineyards, bought new machinery, and expanded the winery's market, both in Spain and abroad.
After the death of Mr. Rodríguez in 2011, his two sons, José Rodríguez Carrasco and Juan Luis Rodríguez Carrasco took the responsability of preserving the 400-year-old legacy of Bodegas Barón while looking ahead to the future.
The historical headquarters of Bodegas Barón is located in the heart of Sanlúcar de Barrameda, right at the mouth of the Guadalquivir river. The newest building, Molinillo 2a, provides ideal conditions for crafting a wide portfolio of wines following the venerable method of "Soleras y Criaderas". Besides the traditional Manzanilla and Palomino Fino wines, aged under the so-called "flor" veil, the company also produces Amontillado, Cream, Moscatel, Pedro Ximénez and Medium through oxidative aging. All wines belong to the DO Jerez-Xérès-Sherry. Amazingly, the first soleras date from 1631.
The estate of Bodegas Barón comprises two vineyards: El Poedo y El Hato. The closest to the river mouth is El Poedo, with an extension of 47 hectares and typical Albariza soils which, together with the high humidity of the area, bring a particular character to the wines. Much smaller, El Hato has an extension of 5 hectares, also with albariza soils. It is planted with the varieties Palomino, Pedro Ximénez and Moscatel de Alejandría.
A few years ago, Bodegas Barón started producing wines in La Rioja Alta under the PARANORMALES brand. Currently, the winery produces a red wine from Tempranillo and Maturana Tinta, and a white wine from Tempranillo Blanco. Made from recovered local varieties, those two organic wines are a new take on traditional Rioja.
There are no products matching the selection.