Bodegas Campante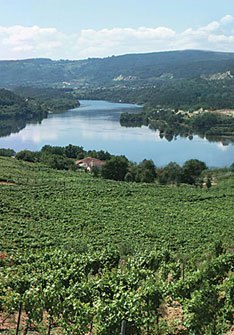 The Bodegas Campante winery is located in the heart of the Ribeiro DO, one of the oldest winemaking regions of Spain.
During the 1940s, Manuel Méndez Villanueva, the founder of the Bodegas Campante, began working as a winemaker and an oenologist in the Ribeiro region. In order to make a living, he sold his wines to the bars and the restaurants of the region. It was not until the 1970s that the next generation of the Villanueva family developed a business plan for the winery. Thus, they began selling their wine across Spain and around the world. Very soon, they needed to plant more vines and, to meet their production needs, in 1990 they moved to the Finca Reboreda estate, in the heart of the Ribeiro DO, in the northwestern Spanish province of Galicia, a place famous for its wines, fabulous food and, most significantly, the city of Santiago de Compostela, the ending point of the way of St. James, one of the most important spiritual and cultural routes of Europe.
As for Bodegas Campante, all of its wines are crafted from a blend of native grape varieties. The white wines are made from a monovarietal or a blend of Treixadura, Godello, Torrontés, and Loureira, while the red wines are made from Mencía, Brancellao, Caiño, and Sousón. One of the most famed produces of the winery is Alma de Reboreda, a sweet wine crafted from the finest selection of Treixadura grapes, which are harvested by hand and naturally dried.
Founded in: 1940
Address of Winery: Finca Reboreda, s/n
City: Puga
Province: Ourense
Postal Code: 32941
Country: Spain
Phone Number: (+34) 988 261 212
Does this winery offer guided tours? No
Does this winery offer tourist services? No
There are no products matching the selection.