Bodegas y Viñedos Godelia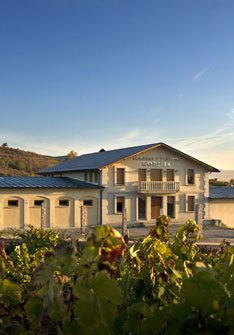 The Bodegas y Viñedos Godelia winery has achieved an authentic expression of the Bierzo terroir with their traditional and sustainable wines.
From a new agronomic concept of grape cultivation, the García Rodríguez founded the Bodegas y Viñedos Godelia with the goal of crafting wine in a traditional manner that is comprehensive and sustainable. This winery is situated in the district of Pieros, in the mountainous region of Bierzo between Galicia and Castilla-León. The soils of this region are very rich in minerals and this region has a continental climate. This winery has over 35 hectares of grapevines in three different vineyards (Legúas, Castro, and Laderas Centenarias), each of which is situated at different altitudes with unique grapevine orientations.
The most extensive of the Bodegas y Viñedos Godelia winery´s vineyards is Legúas with over 30 hectares of grapevines with east to west orientations and their own unique micro-climate. The Castro vineyard has five hectares of grapevines at altitudes which allows for the most expressive grapes. The Laderas Centenarias vineyards name literally refers to the century-old grapevines that this vineyard maintains on sloping mountainous terrains. The soils at each of these wineries are all full of slate, quartzite, boulders, clay, and sands giving the grapes a unique minerality and acidity. The majority of the grape varietals cultivated by these vineyards is the native red wine grape varietal Mencia, and the native white wine grape varietal Godello. These grapes are harvested by hand and transferred to the Bodegas y Viñedos Godelia winery in small 33 pound (15 Kg) boxes between the 15th of September and the end of October of each season. These grapes receive a rigorous selection process at the vineyards to ensure only the highest quality of grape is delivered to the winery.
The wines of the Bodegas y Viñedos Godelia winery in the Bierzo DO are pure representations of their individual and unique terroirs. These are single varietal wines crafted from Mencía or Godello grapes. The red wine Viernes and Godelia Tinto are from the Mencía grapes and the white wine Godelia Blanco is crafted from a coupage of the best quality Godello grapes of the vineyards mentioned above, along with a small percentage of Doña Blanca.

Address of Winery: Antigua Ctra. N-VI Km. 403,5
City: Pieros - Cacabelos
Province: León
Postal Code: 24547
Country: Spain
Phone Number: (+34) 987 546 279
Does this winery offer guided tours? Yes
Does this winery offer tourist services? No
Denomination of Origen:
Grape Varietales: