Merseguera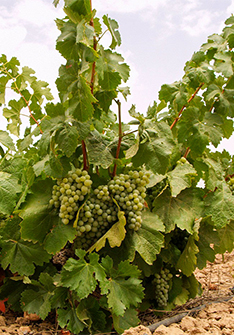 A white grape variety indigenous to the Spanish Levant.
A white grape variety indigenous to the Spanish Levant. Currently in the process of being recovered for wine production, it is mainly found in the areas of Alto Turia, Utiel-Requena and Vinalopó, province of Valencia.
The Merseguera grape can be goblet-trained or trellised. With respect to climate and soil types, it is a rather adaptable variety, though it performs best when grown in dry areas with low levels of organic matter. An early- budding grape, it can be affected by the winter frosts, and it is also susceptible to botrytis.
The Merseguera grape bunches are medium-sized, and they are composed of medium-sized to big, thin-skinned, green-coloured grapes with a yellowish glint.
A slow ripening variety, Merseguera produces fresh, light to medium-bodied, fruit-forward wines with good acidity and moderate ABV. Most Merseguera wines have a characteristic remembrance of bitter almonds and herbs.
The Merseguera variety is also known as Escanyagós, Esquitxagós, Matavells, Matavella, Planta Borda, Planta de Gos, Trova, Verdosilla, Sumoll Blanc, Verema Blanca and Sitjà. For a long time, Merseguera was thought to be the same variety as Escanyavella from Priorat – an equivalence which is still found in most descriptions of the variety-. However, a DNA microsatellite test carried out some years ago by the INCAVI (the Catalan Wine and Vine Institute) conclusively proved that Merseguera and Escanyavella are not related to each other.