Losada Vinos de Finca winery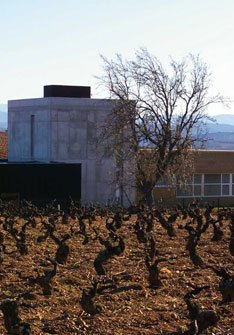 A firm believer in the potential of the Mencía grape, the Losada winery has realised the dream of creating great wines in the Bierzo region through the recovery of very old Mencía vines.
Emile Peynaud, the French oenologist who is credited with having revolutionized winemaking in the second half of the XXth century, once famously declared that "some day the Bierzo will produce some of Europe's best red wines". Not long after, his words were taken at face value by a group of wine enthusiasts who decided to do their best to fulfill the great man's prophecy. Thus Bodega Losada was born. A winery comitted to producing great wines entirely crafted from Mencía grapes, the great indigenous variety from El Bierzo.
The Losada Vinos de Finca winery is located in the town of Cacabelos. Along with the towns of Villafranca and Toral de los Vados, the three form a triangle that produces the best grapes in El Bierzo. The region enjoys a humid continental climate, and its topography protects it from the chilly winds that come from Galicia. All things considered, the climate conditions are ideal for growing grapevines.
The winery building is divided in two main areas. Formal events and wine tastings take place in big, cubic-shaped rooms that allow visitors to enjoy wonderful vistas of the surrounding landscape. On the other hand, technical work is carried out in the functional areas situated below ground level. The building is a gravity-flow structure that allows for an extremely gentle, minimally interventionist handling of the grapes during the winemaking process.
The Losada Vinos de Finca winery has three varietal Mencía wines: La Bienquerida, Altos de Losada, and Losada. Wines full of character, life and delicacy.
Founded in: 2005
Address of Winery: Ctra a Villafranca Le-713, Km. 12
City: Cacabelos
Province: León
Postal Code: 24540
Country: Spain
Phone Number: (+34) 987 548 053
Does this winery offer guided tours? Yes
Does this winery offer tourist services? Yes