Bodega Valdesil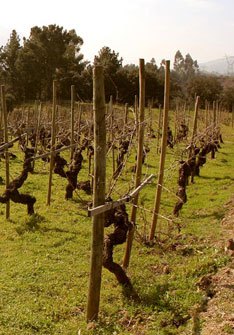 The story of the more recent wines from the Bodega Valdesil winery began in 2001, with the dream of recovering all of the "pezas" of rare and nearly extinct Godello grape varietals that once belonged to this Spanish family.
El Valle del Sil is a Spanish region that has provided refuge for the native Spanish white grape varietal, Godello. The Bodega Valdesil winery is working with these grapes in the Vilamartín de Valdeorras (Ourense) producing their Galician wines from Valdesil.
The history of the Bodega Valdesil winery began with a dream in 2001 to recuperate all of the "pezas" of Godello that were once owned by the family of this winery. José Ramón Gavoso, a winemaker from Portela, was the first person to plant Godello grapevines in this region in 1885, with the Pedrouzos vineyards. The Bodega Valdesil also crafts wines from Mencía grapes, which originated in the neighboring DO of Bierzo. All of the vineyards of the Bodega Valdesil winery are situated in municipalities of Portela and Córgomo, inside of Valdesil.
This winery utilized replanted grapevines which were personally selected and provided by the Godello de Pedrouzos vineyard. These grapevines were selected for the characteristics of their terroir, and they were originally the clones of some of the oldest and most pure Godello grapes of Galicia. These are low yielding grapevines that produce small clusters of very well concentrated grapes. The Bodegas Valdesil winery´s Godello grapevines have natural vegetable coverage that helps to prevent soil erosion in addition to assisting the cultivation process of these grapes. These grapevines are all situated at altitudes below 1,800 feet (550 meters) which helps the grapes to achieve their ideal ripeness. The soils at this vineyard are full of granite and slate which gives these Godello wines a distinctive minerality. This region is also subject to the extreme climate of Galicia which is very hot during the summer and also the coldest region in Galicia during the winter. Furthermore, this region has the lowest annual rainfall of only 31 to 40 inches (800-1000 Millimeters).
The wines of the Bodega Valdesil winery are elegant and powerful wines that are very well representative of their terroir. You will find that each of these wines has an unmistakable character.
Founded in: 2001
Address of Winery: Ctra a San Vicente OU-807, km 3
City: Vilamartín de Valdeorrast
Province: Ourense
Postal Code: 32348
Country: Spain
Phone Number: (+34) 988 337 900
Does this winery offer guided tours? Yes
Does this winery offer tourist services? Yes
Denomination of Origen:
Grape Varietales: