Bodegas Amaren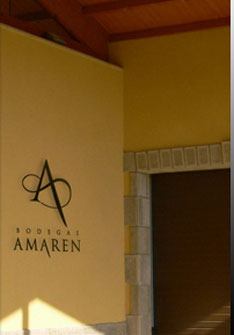 The Bodegas Amaren winery was founded by Juan Luís Cañas of the Bodegas Luís Cañas winery, to pay homage to his mother Ángeles.
The Bodegas Amaren is owned and operated by Juan Luís Cañas of the Bodegas Luís Cañas winery. With the 1995 harvest, and in honor of Juan Luís Cañas´mother Ángeles, the Amaren wine was crafted. This wine was produced to be the perfect wine for Ángeles as well as a perfect wine for angles. Finally, in the year 2009, Juan Luis inaugurated the Bodegas Amaren in dedication to his mother as a separate winery in the province of Villabuena de Álava, inside of the La Rioja Alavesa.
This winery has 22 hectares of 60 year-old grapevines, and 30 hectares of vines between 30 and 60 years-old. These grapevines are spread along sloping hillsides that are between 1,500 and 2,000 (450 and 600 Meters) feet of altitude in the naturally protected region of northern Sierra Cantabria. While this region has poor soils that are full of loam clays and limestone it is a perfect region for cultivating grapevines. This is a continental microclimate that is affected by both the Atlantic Ocean and the Mediterranean Sea.
The Bodegas Amaren presents Tempranillo and Graciano red wines, one of which is Ángeles de Amaren. This red wine was crafted from a coupage of both of these grapes with a coupage of 85% Tempranillo and 15% Graciano and it was aged for 16 months in new French and American oak barrels. Both the Tempranillo and Graciano grape varietals were kept separate through the vinification process including its ageing in oak.
There are two other crianza aged wines that the Bodegas Amaren winery of the DOC Rioja. One of these red wines is crafted entirely from Tempranillo grapes and the other from the single Graciano grape varietal.
The only white wine from the Bodegas Amaren winery is the Amaren Fermentado en Barrica. This is a oak barrel fermented white wine that was aged for seven and one half months in oak barrels. This is a rare Spanish wine as it was limited in production to only 13,000 bottles.
Founded in: 1995
Address of Winery: Ctra. Baños de Ebro, s/n
City: Villabuena de Álava
Province: Álava
Postal Code: 01307
Country: Spain
Phone Number: (+34) 945 175 240
Does this winery offer guided tours? No
Does this winery offer tourist services? No
Denomination of Origen:
Grape Varietals: