Bodegas Joaquín Rebolledo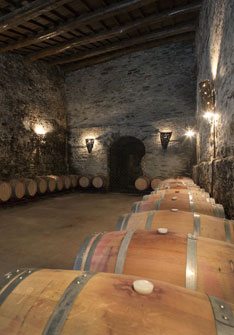 The Bodegas Joaquín Rebolledo winery has over 40 hectares of vineyards spread throughout the Valdeorras DO where they lovingly grow the native Godello and Mencía grapes.
Nearly 30 years ago, Joaquín Rebolledo decided that his winery will produce wines only from grapes indigenous to his region, namely the Godello and Mencía varieties. Speaking of the first, in 1993 Mr. Rebolledo won the Zarcillo de Oro (a prestigious Spanish wine contest) with the tremendously successful white wine, Joaquín Rebolledo Godello. As for the Mencía grape, this red variety is cultivated to perfection in the northwestern region of the Iberian Peninsula, precisely the place where the Mencía vineyards of the Bodegas Joaquín Rebolledo winery are located. The Joaquín Rebolledo Mencía red wine continues to receive awards around the world, and it has gained international prestige as it is considered to be one of the best wines produced from that remarkable grape.
The Bodegas Joaquín Rebolledo winery owns over 40 hectares of vineyards in the Valdeorras DO of Spain. The low-yielding vines grow in soils composed of slate, granite and sand.
After a very meticulous vinification process, the Bodegas Joaquín Rebolledo winery ages its wines in an old cave, called La Mina, which was restored in the 1980s. This is a silent underground cellar that allows the wine to age in a very tranquil environment, held at a controlled temperature and strict humidity conditions.
The two wines by the Bodegas Joaquín Rebolledo winery, their red Mencía wine, Joaquin Rebolledo Mencía, and their white Godello wine, Joaquin Rebolledo Godello de Valdeorras, are pure expressions of their Galician terroir. This is why each vintage keeps earning important national and international awards.
Address of Winery: c/ San Roque, 11
City: A Rúa
Province: Ourense
Postal Code: 32350
Country: Spain
Phone Number: (+34) 988 372 307
Does this winery offer guided tours? No
Does this winery offer tourist services? No
Designation of Origin:
Grape Varieties: