Bodegas Protos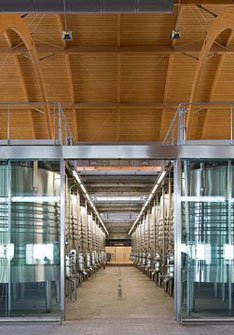 The Bodegas Protos winery founded the Ribera del Duero DO of Spain and with their expansion into the Rueda DO they now craft wines with very elegant expressions of the Spanish Verdejo grape varietal.
Originally known as the Cooperatia de Pañafiel in the year 1927, the Bodegas Protos winery was the first winery of the Ribera del Duero. This project started with the union of some of the best Spanish winemakers at the time and through their grand efforts and perseverance for each wine vintage, they became one of the best wineries of Spain.
The name "Protos" comes from Greek to mean "first." This name brings back the fact that they were the first winery of Peñafiel, Spain, founding the winemaking of the Ribera. The incredible growth of the Bodegas Protos winery led them to expand nationally and internationally, and thanks to the wonderful wines they created, this winery was able to construct their new facilities in the surrounding mountains. In the 1980s the Consejo Regulador (the wine regulating entity of Spain) recognized the Bodegas Protos winery for their grand quality of wine and therefore founded the Ribera del Duero DO of Spain to recognize this winery´s grand quality of wine.
The modern facilities of the Protos winery of the Ribera del Duero is situated between the historic streets Rogers Stirk Harbour and Alonso Balaguer. With nearly 216,000 square feet (20,000 square meters) the Protos winery produces 3.5 million bottles of wine per year making them one of Spain´s largest wineries.
The Bodegas Protos winery has various facilities located throughout different Denominations of Origins in Spain. One of the most well-known of these winery´s is the Protos winery in the Rueda, in the town of La Seca, Valladoild. This specific Protos facility has become well-known for crafting some of the best Verdejo white wines of the world. The Bodgas Protos winery exports these wines to over 91 different counties around the world in five different continents; the Americas, Asia, Oceania, Europe, and Africa.
Founded in: 1927
Address of Winery: Bodegas Protos, 24-28
City: Peñafiel
Province: Valladolid
Postal Code: 47300
Country: Spain
Phone Number: (+34) 983 878 011
Does this winery offer guided tours? Yes
Does this winery offer tourist services? No
Denominations of Origen:
Grape Varietales: