Bodegas y Viñedos Martín Berdugo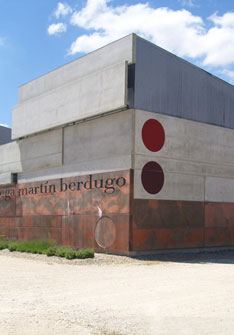 From their spectacular facilities, the Bodegas y Viñedos Martín Berdugo winery crafts expressive and extremely friendly wines.
The Bodegsa y Viñedos Martín Berdugo was founded on the Spanish phrase "las uvas de la ilusión" which can be translated into English to mean "the elusive grapes." In 1990 Josefina Martín Berdugo, along with her family, constructed this winery and in the year 2000 this winery was officially founded and it became widely known around the region. These were the first steps leading up the the Martín Berdugo wines that are now being produced in the Ribera del Duero DO of Spain.
The Bodega Martin Berdugo winery has 104 hectares of "pago" rated grapevines (the highest quality rating of Spanish grapes) spread throughout this region´s rocky alluvial soils that are covered by boulders. These grapevines are situated on the banks of the Duero River at over 2,600 feet (800 meters) above sea level. The micro-climate of this region exposes these grapevines to an extreme climate. The main grapes cultivated by these vineyards is Tempranillo (Tinto Fino) which posses 85 or these 104 hectares.
The Bodega Martín Berdugo winery did not economize during the construction of their facilities, but at the same time this winery was constructed with the goal of maintaining a traditional vinification process. As a result, in the year of 2005, this winery received an award by the well-known German magazine, Bauwet, as one of the best modern European architectural designs.
The Tempranillo (Tinto Fino) red wines by the Bodega Martin Berdugo winery are honest and direct. These are aged red wines of a very high quality that have great fruit intensities and beautiful colors. This winery has also started working with Verdejo grapes with the same commitment to excellence.
The Bodegas y Viñedos Martín Berdugo has effectively escaped some of the stricter aspects of the wine industry with their fun micro-narratives that they create for each of their wines. These narratives combine history with wine literature around a relentless pursuit of happiness, following the vision of the Martín Berdugo winery in the heart of the Ribera del Duero.
Founded in: 2000
Address of Winery: Ctra. de la Colonia, s/n
City: Aranda de Duero
Province: Burgos
Postal Code: 09400
Country: Spain
Phone Number: (+34) 947 506 331
Does this winery offer guided tours? No
Does this winery offer tourist services? No
Denomination of Origen:
Grape Varietales:
There are no products matching the selection.