Can Descregut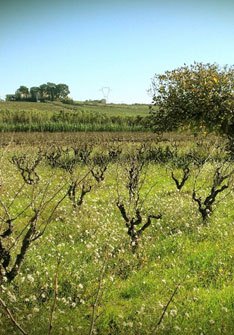 Can Descregut is a small family winery that crafts organic wines and cavas with a grand respect for their tradition.
Inside of the Alt Penedès, in the municipality of Vilobí del Penedès, you can find the Can Descregut winery crafting excellent wines and cavas under the CPAE (Consell Català de la Producció Agrària Ecològica) organically certified seal. This is a family winery from Penedès that transmits their personal passion for wine with their high quality wines and cavas that present pure expressions of their terroir. These organic wines are crafted in a sustainable manner with the utmost respect for the environment. For this, no pesticides nor herbicides are used in any of their 50 hectares of Merlot, Pinot Noir, Xarel-lo, Xarel-lo Vermell, Chardonnay, or Macabeo grapevines.
The organic cava (organic sparkling wine) Memòria by the Can Descregut winery won the silver medal at the international sparkling wine competition "Effervescents du Mon 2012." This competition in Dijon, France, was extremely competitive as it was limited to only the best sparkling wine produces around the world.
The white wines of the Can Descregut winery are crafted from Xarel-lo and Xarelo-lo Vermell grapes. Xarel-lo grapes are the undisputed Queen grape varietal of the Penedès and Xarel·lo Vermell grapes are a clone of Xarel-lo that has been cross bread with Vermell grapes. Xarel-lo Vermell grapes are very special grapes that require a unique macerations and provide for complex wines that have pungent aromatics and unique pigmentations.
Address of Winery: Masia Can Descregut s/n
City: Vilobí del Penedès
Province: Barcelona
Postal Code: 08735
Country: Spain
Phone Number: (+34) 938 978 273
Does this winery offer guided tours? Yes
Does this winery offer tourist services? Yes
Denomination of Origen:
Grape Varietales: