Celler Cooperatiu de Gandesa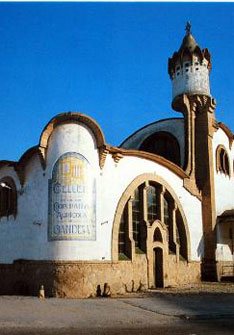 The Celler Cooperatiu de Gandesa is considered to be one of the cathedrals of wine in Spain with their grand facilities and unique wines from the south of Tarragona.
The Celler Cooperatiu de Gandesa winery was founded by 453 different partners. The majority of these partners were part of agricultural sector cultivating grapevines, olive vines, and almonds in the region. After this winery was founded all of the grapes from these vineyards became reserved for the exclusive use of this winery. All of the wines that are produced by this winery are regulated by the Consejo Regulador of Spain and they are labeled as Terra Alta DO wines. Between all of the different vineyards this winery possesses over 1,000 hectares of grapevines. Of this there are 50 year-old Carignan (Samsó) and Grenache Blanc grapevines along with a vast age range of Tempranillo (Ull de Llebra), Cabernet Sauvignon, Syrah, and Merlot grapevines with some of these grapevines being only 8 years-old.
This winery is situated in a modernist era building that was crafted by the architect César Martinell. This winery´s facilities were completed in 1920 and due to its grand architectural design this winery is often referred to as the Cathedral of wine. In the year of 2007 this winery was chosen as one of the seven wonders of Catalonia (Les Set Meravelles de Catalunya).
The Celler Cooperativa de Gandesa winery crafts young red wines and crianza red wines from the single varietal or coupage of : Grenache Noir, Carignan (Samsó), Grenache Gris, Syrah, Tempranillo (Ull de Llebre), and Cabernet Sauvignon grapes. This winery crafts all of its Gandesa white wines from Grenache Blanc. This winery also crafts a young rosé wine from Grenache Noir along with their dessert and fortified wines. In general, wines by the Celler Cooperative Gandes winery in the Terra Alta are considered to be full-bodied, complex, full of mineral expressions, and glyceric wines. This is in part due to the grand temperature changes in this region between the summers and winters. There are very dry periods and this region is known for having low annual rainfall. The soils are calcareous and full of clay. The most well-known wines by the Celler Cooperative de Gandes are their Gandesola and Somdinou wines.
Founded in: 1920
Address of Winery: Avinguda Vía Catalunya, 28
City: Gandesa
Province: Tarragona
Postal Code: 43780
Country: Spain
Phone Number: (+34) 977 420 017
Does this winery offer guided tours? Yes
Does this winery offer tourist services? No
There are no products matching the selection.