Empordàlia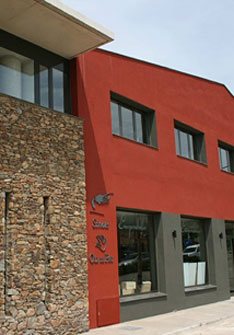 The tradition of all of the people at the Empordà winery cooperative has been united together in the production of their expressive wines which all have a unique personality.
The wines by the Empordàlia winery present a living chronicle of ancient wineries coming together to produce high quality wines under the Spanish Denomination of Origin (DO) Empordà. The Empordà was founded in 2005 with the union of the cooperatives Pau y Roses and Vilajuïga (in 1986 these cooperatives united and Agrícola de Pau was founded in 1961 while the ´La Bodega de Roses´ was founded in 1954). These wineries always worked their vineyards by hand. Combined they also had 500 hectares of 100 year-old olive vines and 250 hectares of new and old grapevines. Today, Empordàlia is a cooperative with over 250 partners in the regions of Alto and Baix Empordà.
The red wine by the Empordàlia winery was born from a constant artesian work in harsh licorella and sandy soils, alluvial plains, with a lot of patience. The main goal is always to craft the best wines from their grapes. One of this cooperatives most well known wine vintages in Sinols de Empordàlia. These are high quality wines that are well expressive of their terroir and they are offered at a very competitive price.

Founded in: 1961
Address of Winery: Ctra. de Roses s/n
City: Pau
Province: Girona
Postal Code: 17494
Country: Spain
Phone Number: (+34) 972 530 140
Does this winery offer guided tours? Yes
Does this winery offer tourist services? No
There are no products matching the selection.