Garnachas de España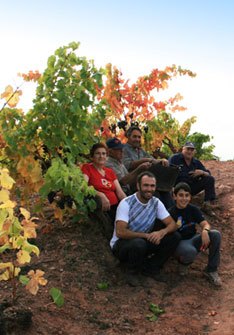 The Garnachas de España winery is a grand project to identify the different expressions of the infamous Spanish Grenache grape varietal.
The Garnachas de España winery is a project being lead by Raúl Acha that is focused on the Spanish Grenache grape varietal, the most widely grown red grape varietal on the Iberian Peninsula. To realize this dream Raúl Acha went through every region of Spain where Grenache had a grand importance in their history. In these regions of Spain you can still find very old Grenache grapevines that have very low yields of inevitably high quality. The Spanish Grenache Project began as a result with the intention of producing single varietal Spanish Grenache wines from around Spain to express the uniqueness of Grenache wines from different terroirs.
The Spanish red wine Ribera del Queiles by Garnachas de España is from the Moncayo region of Spain and it has been aged for five months in French oak barrels. Despite its youthfulness this is a very well-rounded wine. This is a fruity wine that is fresh with sweet tannins. Another brilliant wine by this winery is La Garnacha Fosca del Priorat. This Spanish red wine from the DOQ Priorat is a single varietal Spanish Grenache that has been crafted from 60 year-old grapevines. This wine has seductive complexities and a very flavorful and fresh palate making it very easy to drink. The La Garnacha Olvidada de Aragón wine by this winery comes from old grapevines in the valley of Ribota Spain under the Calatayud DO. This wine was aged in crianza for 10 months in French oak barrels and it has berry pleasant and ripe tannins.

Founded in:
Address of Winery: c/ Gral. Vara de Rey, 7 1º Dcha
City: Logroño
Province: La Rioja
Postal Code: 26003
Country: Spain
Phone Number: (+34) 941 271 217
Does this winery offer guided tours? No
Does this winery offer tourist services? No
There are no products matching the selection.