Heidsieck Monopole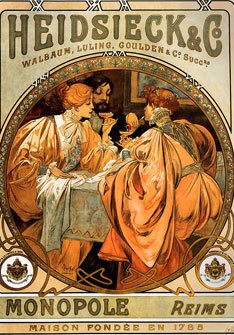 Crafting elegant French champagnes since the late eighteenth century, the Heidsieck & CO Monopole winery is one of the best Champagne "Maisons" in the world today.
The origins of Heidsieck & Co Monopole hark back to the late eighteenth century, when Florence Louis Heidsieck, his nephew Henry-Louis Walbaum, and his brother Auguste Heidsieck, created a winery that soon became one of the most prestigious Champagne brands in the world. One of the many legends surrounding the Maison Heidsieck says that the Tsar Nicholas II (the last Emperor of Russia), once purchased 400,000 bottles of Heidsick & Co. for his personal cellar. Today, the Heidsieck & Co House of Champagne belongs to the Vranken group, based in Epernay, France. This company also produces the renowned Pommery Champagne at the Vranken Pommery Monopole.
As with all great Champagnes, there's something magic about the wines produced by Heidsieck & Co. Monopole. A mystique perhaps best embodied in the words uttered by Winston Churchill during the Second World War: "Remember, gentlemen, it's not just France we're fighting for, it's Champagne!"
Founded in: 1786
Address of Winery: Place du General Gouraud 5
City: Épernay
Province: Champagne
Postal Code: 51100
Country: France
Phone Number: 03 26 61 62 63
Does this winery offer guided tours? No
Does this winery offer tourist services? No
Designation of Origin:
Grape Varieties:
There are no products matching the selection.