Heretat Mas Tinell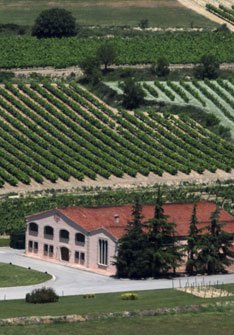 Soon after their foundation, the Heretat Mas Tinell became well-known in the world of sparkling wine for their elegant and serious cavas.
The Heretat Mas Tinell winery was founded in 1989 in Sant Martí Sa Roca of Vilafranca del Penedès inside the Alt Penedès. This winery is surrounded by its grapevines and its facilities were constructed following the traditional Catalan "masía" style architecture. The Heretat Mas Tinell winery has the latest wine technology available on the market which they use to craft their white and red wines, as well as their sparkling wines, cavas Mas Tinell. The Heretat Mas Tinell winery personally cultivates 40 hectares of the native Penedès grape varietals: Macabeo, Xarel-lo, and Parellada; in addition to four hectares of Chardonnay and one hectare of Muscat. This winery also used Trepat, Cabernet Sauvignon, Grenache Noir, Merlot, and Muscat de Frontignac grapes in their Mas Tinell wines.
The cava, Mas Tinell Brut Real Reserva from Penedès was selected for a Spanish Royal Wedding and it was also selected as the official sparkling wine of the Beijing Olympics of 2008.
Heretat Mas Tinell features a 5-star hotel near the winery which presents a gorgeous view of their vineyards in this very peaceful environment. This unique hotel offers their guests the opportunity to try the sensational wines and cavas in the spectacular building where they are crafted.
Founded in: 1989
Address of Winery: Ctra. Vilafranca a Sant Martí Sarroca km 0.5
City: Vilafranca del Penedès
Province: Barcelona
Postal Code: 08720
Country: Spain
Phone Number: (+34) 938 170 586
Does this winery offer guided tours? Yes
Does this winery offer tourist services? Yes