Abadía Retuerta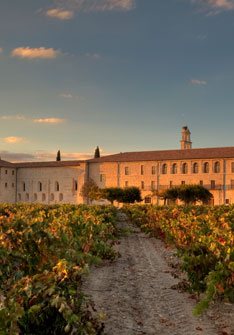 The Abadía Retuerta winery has gained international recognition for crafting some of the most elegant wines in the Castilla y León DO. This winery combines traditional knowledge and modern technical expertise in its meticulous approach to winemaking.
During the Spanish Reconquista, when Spain sought to establish Christianity in the Castilian regions, the Conde de Castilla (the Earl of Castile) ordered the construction of a network of fortified monasteries. By this order, in 1146 the monastery of Sta. María de Retuerta was erected by the banks of the Duero River. Two words were used to describe the breathtakingly beautiful location of the monastery: "Ribula Torta," or in Spanish, "orilla tortuosa," which can be translated into English as "winding riverbank," or "tortuous riverbank."
The Bodegas Abadía Retuerta winery was founded in 1996 in that region, now known as Sardón de Duero. The winery owns 700 hectares of vineyards divided among 54 different plots that are located in mountainous terrains and forests, some of which have been re-planted with native varieties. In just over 15 years, the winery planted over 60,000 grapevines that grow at an altitude between 700 and 850 metres in the slopes adjacent to the winery.
The internationally renowned winemaker Pascal Delbeck has been devoted to Abadía Retuerta since its inception. Pascal Delbeck once described the philosophy ot the winery by saying that Abadía Retuerta has succeed in bringing back to life an historic European vineyard capable of producing world-class wines.
All of the grapes are harvested by hand and each vineyard receives individual attention to ensure that harvest is realized at an optimal ripening point. Each of the grape bunches is meticulously selected by hand to ensure that only the best grapes are used. The Abadía Retuerta winery, incidentally, pioneered the use of selection tables in this region. So, the winery´s highly advanced quality control processes, along with chemical analysis, help it to craft truly exceptional products.
Grapes are always fermented in stainless steel tanks. The malolactic fermentation and ageing is realized in different types of oak barrels, some new and some used. The entire vinification process is very meticulous and extremely precise.
Abadía Retuerta Selección Especial, one of the winery's most representative products, is regarded year after year as one of the best wines in the world. In fact, many of Abadía Retuerta's wines have received international recognitions and awards. The winery is also knwon for its estate wines or, in spanish, "vinos de pago", the highest quality rating for Spanish wines.
Year of Production: 1996
Address of Winery: Carretera Nacional 122, km. 332,5
City: Sardón de Duero
Region: Valladolid
Postal Code: 43730
Country: Spain
Phone number: 34 609 945 532
Does this winery offer guided tours? Si
Does this winery offer tourist services? No
Designation of Origin:
Grape varieties: