Acústic Celler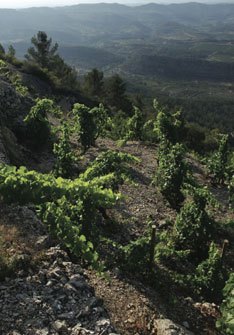 Just like acoustic music without the help of electricity, the wine´s from the Acústic Celler (the Acoustic Celler) are pure expressions of their grapes without any amelioration.
In a region with a unique character and personality, and with very old grapevines, Albert Jané—the grandson of winemakers in Penedès—founded the Acústic Celler in the Montsant DO. The extreme climate of Montsant, along with the very unique soils of this region, have helped to the Acústic Celler to craft high quality and expressive wines that represent the tradition and history of this region.
This winery´s name, Acústic Celler, is a direct comparison to acoustic music, and the winery´s name literally means "the Acoustic cellar." This winery was named after acoustic music because of their philosophy of crafting wine´s that have a pure expression of their grapes, just as music without electricity. All of this winery´s products are crafted from native grapes that are cultivated from grapevines which are between 35 and 80 years-old. These grapevines produce small yields of very high quality grapes.
The most popular red wine of the Acústic winery in Montsant is named after the winery, Acústic Tinto (Acústic Red Wine). This wine is crafted from a coupage of Grenache, Carignan (Samsó), and some Garnacha Peluda (Hairy Grenache); and this wine is aged for one year in oak barrels. Another well-known wine is Braó, which can be translated to mean "bravery." Also, Auditori is a popular wine of this winery and its name can be translated to mean "cathedral." In Spain it is very common to listen to good acoustic music in a cathedral. As for white wines, Acústic Blanc (white wine) is a very popular white wine of this winery and it has been fermented in oak to give it a unique structure.
At the same time, Albert Jané has launched its draft Priorat wines, Ritme Celler. The philosophy is the same, kept working with grapes from very old vines of small plots. In preparing its white wine used Grenache White and Macabeo. All wines from winery Celler Ritme go through barrels.
Year of Production: 2004
Address of Winery: C/ Progrés, s/n
City: Marçà
Province: Tarragona
Postal Code: 43775
Country: España
Phone Number: 34 629 472 988
Does this winery offer guided tours? No
Does this winery offer tourist services? No