Adega Agueira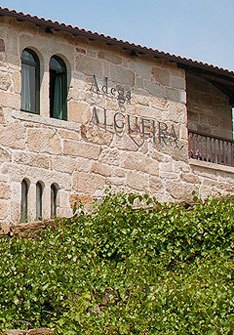 The Adega Algueira winery has a commitment to crafting wines from native grape varieties that transmit a real sense of Ribeira Sacra's terroir.

Growing a vast array of local varieties in Ribeira do Sil, in a fairy tale scenery of ancient oak and chestnut tree forests, the Adega Algueira winery produces some of the best red and white wines in Galicia. Founded in 1996 by Fernando gonzález, the winery is located in a region with a long tradition of growing grapes, as the medieval monks were already producing wine there back in the 12th century.
The Micro-climate of the region is exceptionally propitious for grape cultivation, as temperature is warmer than in the rest of Galicia.
The winery produces red wines from the following indigenous grapes: Mencía, Alvarello, Merenzao, and Caíño. In addition, Adega Algueira also crafts white wines from Godello, Loureiro, Albariño, and Treixadura.
This winery owns 16 hectares of vineyards located on steep slopes. Some of these slopes, by the way, exceed 80% grade! The low-yielding vines grow in rocky soils with a high level of mineral content and schist slates. The landscape of vineyards is a joy to watch, as it is fully integrated into the environment.
The wines of the Adega Algueira winery in the Ribeira Sacra are very expressive and show a distinctive minerality, one of Ribeira Sacra's trademarks. They are pure expressions of terroir.
Year of Production

: 1996

Address of Winery

: Doade, s/n

City

: Sober

Province

: Lugo

Postal Code

: 27460

Co

untry

: España

Phone Number

: 34 982 152 238

Does this winery offer guided tours

? No

Does this winery offer tourist services

? No