Bodega Eduardo Peña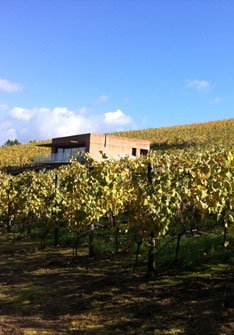 Hidden among its vineyards you can find the Bodega Eduardo Peña winery in a stunning scenery. This winey is a refuge for the most traditional character of the Ribeiro.
The Bodega Edurado Peña winery is situated inside the Ribeiro DO with 5 hectares of grapevines situated in western oriented double trellises at 820 feet of altitude (250 Meters) in the western province of Ourense. The region is marked by the Miño wind and its turbulences have a positive impact on the grapes. The soils in this region are filled with stones, sand, slate, and gravel, and they gently slope towards the Castrelo de Miño reservoir. All of these grapevines are planted in orderly parallel lines that are oriented to receive the most sunlight possible. The micro-climate of these vineyards is influenced by the Atlantic Ocean with low temperatures in the winter and high temperatures during summer months. There is an average annual rainfall between 31 and 40 inches (800-1000 Millimeters). The Bodega Eduardo Peña winery can be seen from most of the Ribeiro region and for this reason they proposed the solution of hiding their winery among grapevines with grapevines planted up the slopes to the winery.
The temperature inside of Bodega Edurado Peña is held at 57 ºF (14 ºC) during the winter and 59 ºF (15 ºC) during the summer. The facilities of this winery were constructed in a traditional manner that utilizes its sloping topography for natural ventilation that provides for continuous and adjustable airflow. They also utilize gravity with their underground pipes which limit the use of mechanical vinification processes. The Bodega Eduardo Peña winery´s facilities have optimal conditions for winemaking and they approach their vinification in a traditional manner. All of the grapes used in Eduardo Peña´s Galician wines are harvested by hand and their white wine grape varietals have average yields between 6,000 and 8,000 Kilograms per hectare, with red wine grape varietals having average yields between 3,000 and 5,000 Kilograms per hectare.
The Bodega Eduardo Pená winery´s most famous wine is the Eduardo Peña white wine.
Founded in: 2005
Address of Winery: Barral
City: Castrelo de Miño
Province: Ourense
Postal Code: 32430
Country: Spain
Phone Number: (+34) 629872130
Does this winery offer guided tours? Yes
Does this winery offer tourist services? No