Bodegas Sers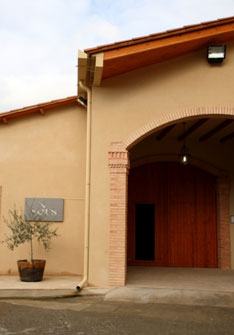 Bodegas Sers is the smallest winery in the DO Somontano.
"Sers", from the Latin "cĕrcĭus", variation of "cĭrcĭus", is a western wind. That's the way in which the Cierzo wind is called in some Aragón regions.
Bodegas Sers is located in the town of Cofita, on the foothills of Pyrenees, at an altitude of 300 metres above sea level. There, the company owns 12 hectares of unirrigated vineyards constantly swept by the Cierzo. Particularly notorious during the winter and spring seasons, the wind acts as a natural cooling and sanitizing agent for the grapevines.
Committed to sustainable agriculture practices, Bodega Sers mainly grows international varieties, such as Merlot, Syrah, Cabernet Sauvignon and Chardonnay. In addition, the winery is also recovering the Parraleta, an ancient red grape indigenous to the region of Somontano.
Productions are scarce, ranging from 1,500 to 6,000 bottles.
Besides the winemaking facilities, Bodega Sers recently rehabilitated Casa Canales, an old country house which gives the visitors the opportunity to enjoy rural tourism.
Year of Foundation: 2006
Address: Plaza Mayor, 7
City: Cofita
Province: Huesca
Zip Code: 22417
Country: Spain
Phone number: 34 667 596 155
Guided visits? Si
Wine tourism services? No
Denomination of Origin:
Varietals: