Casar de Burbia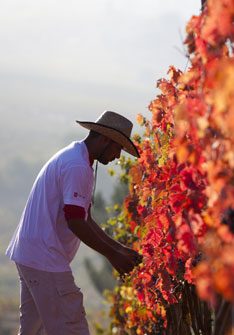 The wines by the Casar de Burbia winery are a very pure expression of the unique Mencía grapes from the Bierzo region of Spain.
With their century-old grapevines adjacent to the Way of St. James (Camino de Santiago) the Casar de Burbia winery has 27 hectares of Mencía grapevines in the Valtuille de Arribas, in the Bierzo province of León. Nemesio Fernández Bruña purchased these old grapevines in the 1980s and after seven year recuperation this winery had over 9,000 of these very healthy ancient grapevines which they maintain to this day. These grapevines are situated between 1,950 and 2,300 feet (600 and 700 meters) of altitude in red soils that are full of slate and different minerals. This terroir is very well-reflected in these wines.
All of the red wines by the Casar de Burbia winery in the Bierzo are crafted from Mencía grapes and all of these wines are aged between 8 and 16 months in French oak barrels. There are wines that are renowned for their high quality. One of these red wines, Hombros 2007, was ranked by the Peñín guide at a 94/100!
The white wines crafted by the Casar de Burbia winery are Godello wines and all of these wines have been aged in their lees for time periods between 8 and 12 months. These are creamy white wines with volume and grand aromatic intensities.
Address of Winery: Travesía Constitución, s/n
City: Carracedelo
Province: León
Postal Code: 24549
Country: Spain
Phone Number: (+34) 987 562 910
Does this winery offer guided tours? Yes
Does this winery offer tourist services? No