Maius Viticultors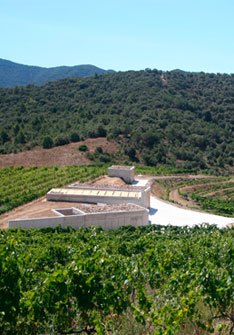 A family project, Bodega Maius Viticultors is the culmination of a lifetime dedicated to the wine trade.
The origins of Bodega Maius Viticultors go bach to 1949, when Mr. Manuel Gómez opened a retail wine shop, Celler Santa Maria, in Sant Cugat del Vallès, a city near Barcelona. In 1998, the Gómez family took their passion for wine a step further, and they decided to start producing ther own wines. After considering several regions, they finally chose Priorat, Catalonia's most prestigious wine producing area. The first vintage, supervised by winemarker Eloi Milà, hit the market in 2004.
Locatd in an area called Barranc de la Bruixa, in the village of La Morera del Montsant, Bodega Maius Viticultors cultivates mainly the traditional varieties Grenache and Carignan, as well as some Cabernet Sauvignon. South-oriented, the vines grow in different types of soils, among wich the typical Priorat llicorella (slate) ones are most predominant. In this area, we also find a small plot of White Grenache.
Placed in the midst of the vineyards, the winemaking facilities of Bodega Maius Viticultors were built in 2011. The state-of-the art building was designed to meet rigourus standards of environmental sustainability and energy efficiency. Most of its volume is buried underground, to allow processing grape by gravity and to ensure a constant temperature throughout the year. As for the wine making process, the Priorat wines of Bodega Maius are vinified in stainless steel tanks and French oak barrels.
Year of foundation: 1998
Address: Barranc de la Bruixa Polígon 11, parcela 16
City: La Morera de Montsant

Province: Tarragona
Zip code: 43361

Country: España
Phone number: 34 696 998 575

Guided visits? Yes
Wine tourism services? No
Designation of origin:
Red wine varieties:
Grenache, Carignan, Cabernet Sauvignon.

White wine varieties: