Máximo Abete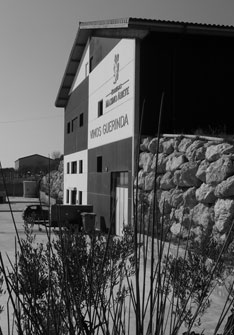 A small artisan winery, Máximo Abete is proud of its Navarrese roots.
The Máximo Abete winery is a family business with a long history. After many generations selling the family wines to the town cooperative, back in the 90s Máximo Abete decided to start his own company. Having little money but lots of enthusiasm, he began by buying some old oak barrels in order to craft his first Guerinda wine, released in 1998 and entirely home-made. Helped by his elder daughter Yoanna, and by Juanma, his son-in-law, Máximo continued to expand the company until it was necessary to build an independent facility. At that time, María, the younger daughter, also joined the team.
The winery is located in the town of Sant Martín de Unx, near Olite, an area belonging to the
Navarra DO
. All of the wines are produced from estate-owned vineyards. Despite being equipped with state-of-the-art machinery, Bodega Máximo Abete is not interesed in producing milions of bottles of average wine. Instead, it is focused on crafting small amounts of expressive
Guerinda wines
.
Knowing that the best wines come only from the best grapes, all of the vineyards of the Máximo Abete winery are farmed following minimal intervention practices and sustainable agricultural procedures. Right now, the company owns 14 low-yielding plots, all of them with different characteristics, located near the town of San Martín de Unx.
Year of Production: 1998
Address of Winery: Carretera Estella-Sangüesa, Km. 43,5
City: San Martí de Unx
Region: Navarra
Postal Code: 31495
Country: España
Phone number: 34 948 738 120
Does this winery offer guided tours? Si
Does this winery offer tourist services? No
Denomination of Origin:
Varietals: