Aalto Bodegas y Viñedos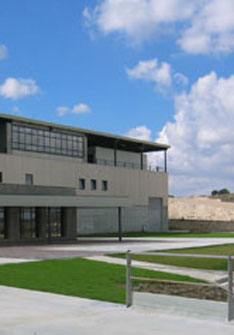 Since 1999, the Aalto winery has been producing quality wines from old Tinta Fina (Tempranillo) vines grown in the prestigious Ribera del Duero Designation of Origin.
Mariano García, the renowned oenologist of the Bodegas Vega Sicilia winery in Spain, formed a joint venture in 1999 with Javier Zaccagnini, an expert in the world of wine business management, in order to produce the finest quality Tinta Fina (Tempranillo) wines in Ribera del Duero. Their aim was to produce world-class wines that embodied the essence of the Ribera del Duero region.
The Aalto winery owns over 32 hectares of Tinta Fina vineyards replanted from old clones. The vineyards are spread out over three regions of Ribera del Duero located between the northern Spanish provinces of Burgos and Valladolid. The winery also owns 90 hectares of old grape vines (45 to 90 years-old) in other regions of Spain. All of Aaltos vines are cultivated under strict supervision and in accordance to the exacting quality standards established by Mr. García and Mr. Zaccagnini.
The new facilities of the winery, half of which are buried underground, are located in the village of Quintanilla de Arriba, in the region of Campo de Pañafiel, in Valladolid, Spain. The winery uses state-of-the-art winemaking techniques, without disregarding the peasant wisdom of the ancestral Ribera del Duero region.
The Bodegas Aalto winery produces two wines, Aalto and Aalto PS, both of which are marketed under the Ribera del Duero DO. Aalto PS (Private Selection) is the winery's flagship wine, and it is only made in the very best vintages. Not only the grapes must reach ridiculously high quality standards; besides, the "surviving" grapes undergo a further selection process to separate the incomparable from the simply excellent ones.
The Wines from the Bodegas Aalto winery, which are aged in French and American oak barrels, always recieve good ratings from Robert Parker, with scores that never drop below 90/100. The latest evaluation of the 2009 vintage of the Aalto PS received the incredible score of 96/100 by Parker! This wine´s younger brother, Aalto 2009, also received a great score of 91/100.
Founded in: 1999
Address of Winery: Paraje Vallejo de Carril, s/n
City: Quintanilla de Arriba
Region: Valladolid
Postal Code: 47360
Country: Spain
Phone number: 34 620 351 182
Does this winery offer guided tours? No
Does this winery offer tourist services? No
Designation of Origin:
Grape Varieties: