Adegas Valmiñor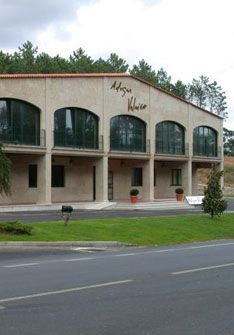 Since 1994 the Adegas Valmiñor winery has expressed their passion for Galician white wine´s with their outstanding white wine vintages.
The Adegas Valmiñor winery of the Rías Baixas was founded in 1994 in the Valle de O Rosal. This valley has a gentle micro-climate with little temperature fluctuation and the soils of this terroir are rich with minerals providing for excellent grape cultivation. All things considered, this valley is perfect for the cultivation of high quality Albariño, Loureiro, and Treixadura grapes which the Adegas Valmiñor winery uses to craft their wines.
The Adegas Valmiñor winery works with a subsidiary winery, Agro Valmiñor, and through this collaboration that have utilized grapes from over 200 vineyards in the Rias Baixas D.O. of Spain. These vineyards provide for a selection of grapes from ancient grapevines all of which are cultivated in similar conditions to the terroir mentioned above. Furthermore, with 34 hectares of this winery´s own grapevines in O Rosal, this winery provides a unique example of vanguard winemaking in Spain. This vanguard style of winemaking utilizes different terroirs, different vineyards, exquisite precaution with grapes, and the latest winemaking technology available today. With this mastery in winemaking the Adegas Valmiñor winery in the Rías Baixas crafts unique wines which impress even the most experienced consumers.
Founded in: 1994
Address of Winery: A.Portela, s/n.
City: San Juan de Tabagón-O Rosal
Province: Pontevedra
Postal Code: 36760
Country: Spain
Phone Number: (+34) 986 609 060
Does this winery offer guided tours? Yes
Does this winery offer tourist services? No
Denomination of Origen:
Grape Varietales: