Alvaro Palacios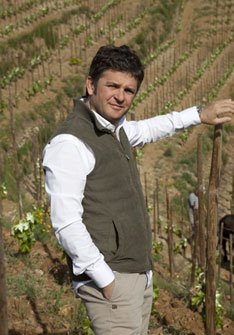 Alvaro Palacios is, without a doubt, one of the greatest winemakers of the Spanish DOQ Priorat. Their elegant wines are enveloping with pure expressions of their terroir. Alvaro Palacios has earned its international prestige.
Alvaro left the Alfaro wine family in the Rioja to undertake this grand vinification venture in the Priorat DOQ of Spain. This brilliant enologist, Alvaro, chose the Priorat after searching for a unique terroir in the Iberian Peninsula for producing his wines. This region inside of Catalonia is very unique to the rest of the Iberian Peninsula with its rare soils that are full of slate in an area with steep slopes and spontaneous cliffs. In addition, the micro-climate in this region is enriched by the Mediterranean Sea, high levels of sunlight, and the native fennel and olive groves that naturally grow on these lands. With this Mediterranean climate the grapevines receive over 3,100 hours of direct sunlight per season with average annual rainfalls that are below 16 inches (400 Millimeters). This is nearly eight inches (200 Millimeters) below the average for the Iberian Peninsula. Furthermore, these vineyards are near the Mediterranean Sea which helps to concentrate the grape´s sugar and give these wines a grand character that is reminiscent of the salts and minerals of this terroir.
Principally, in 1989, three enologists and friends—Josep Lluís Pérez, Carles Pastrana, and René Barbier himself—worked together to share their knowledge of winemaking at the inception of he Alvaro Palacios winery and later separated to each have their own winery. The wines of the Alvaro Palacios began to be recognized around the world with this winery´s magnificent marketing which began with an auction in the year 2003 where one bottle of Ermita 1999 sold for $680 USD (68,000 pesetas) to an anonymous buyer in New York City. After this event Ermita became one of the most prestigious wines of Spain and this winery gained international recognition. This winery also became known for its excellent prices for the quality of their wines. Les Terrasses from Alvaro Palacios was one of the best selling wines of this decade, and it became a benchmark wine for other wineries around the world in the production of the highest quality wines.
The flagship vineyard of the Alvaro Palacios winery is L´Ermita. This noble vineyard has three hectors devoted to Grenache grapes with grapevines that are over 60 years-old. These grapes are used to make one of the best wines of the world. This vineyard has very steep slopes at relatively high altitudes for Spain, and the vineyard is very well located for an ideal grape growing climate with a very useful Mediterranean breeze.
Today, with extreme competition in the Montsant DO of Spain, the Alvaro Palacios winery released its Camins red wine, which is now one of their best selling wines. Camins is presented with a modern and honest label that tries to explain to the public why their wines are superior to their competition. This is a great lesson about wine for any lifelong learners and it is presented with great enthusiasm for the creation of the world´s best wines.
Founding year: 1989
Address of Winery: Polígon 6, Parcela 26
City: Gratallops
Province: Tarragona
Postal Code: 43737
Country: Spain
Phone Number: (+34) 977.839.195
Does this winery offer guided tours? Yes
Does this winery offer tourist services? No
Denominaciones de Origen:
Variedades: