Bodegas y Viñedos Shaya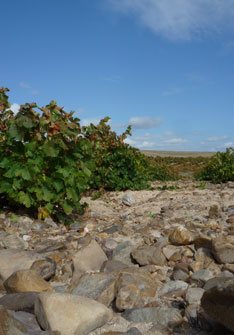 With the aim of creating wines that reflect terroir, Bodegas y Viñedos Shaya crafts elegant Verdejo wines from very old grapevines.
Jorge Ordoñez and Enrique Bustos, two members of the distinguished Gil family, one of Spain's most important wine dynasties, founded the Bodegas y Viñedos Shaya winery in the year 2008 as part of the Orowines group. Following Orowine's philosophy, the main goal of this new project is to craft wines that are pure expressions of terroir.
The Bodegas y Viñedos Shaya winery is situated in Segovia, a dry region in Northern Central Spain with a fabulous historic heritage. The winery owns several plots of very old vineyards, many of which grow under a harsh, extreme climate. Some of the vines are over 120 years old, and yield less than 1.5 Kg of grapes each year. Moreover, some of these vineyards are situated at altitudes as high as 900 meters above sea level. Soils are sandy, with some layers of clay and fluvial sediment. Both the soils and the climate are perfect for growing grapes, as the soils are very good at retaining water during the hot summer season, while the temperature changes help the grapes to achieve a superb ripeness.
The Bodegas y Viñedos Shaya winery crafts all of its wines from meticulously selected Verdejo grapes. Furthermore, all of Shaya´s wines are either fully or partially fermented in oak barrels. This wines are one of the best expressions of the Castilian terroir.
Founded in: 2008
Address of Winery: Crta. de Aldehuela, km 0,4
City: Aldeanueva del Codonal
Province: Segovia
Postal Code: 40462
Country: Spain
Phone Number: (+34) 921 066 010
Does this winery offer guided tours? No
Does this winery offer tourist services? No