Juan Gil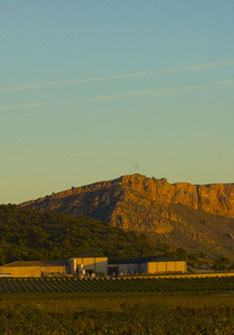 The wines produced by the Juan Gil winery rank among the best expressions of the Monastrell (aka Mourvèdre) grape variety.
The origins of the Juan Gil winery date back to 1916, when Juan Gil Jiménez began producing wine in the center of Jumilla, Spain. Later, the third generation of the Juan Gil family decided to consolidate the business and began to craft wines under the brand name Juan Gil in homage to the founder of the company. Today, the fourth generation of the family runs the winery with renewed passion. Using the latest technologies available on the market, the winery works hard to bring to the public a wide array of wines mostly made from Monastrell. Though this great red grape is indigenous to the southeast of Spain, in the English-speaking world it is better known by its French name, Mourvèdre.
The new facility of the Juan Gil winery was completed in 2002 and is located in the town of "Término de Arriba", just 10 Km northeast of Jumilla, the city that gives its name to the Jumilla DO. The building is surrounded by 120 hectares of vineyards which are situated in the wooded slopes of Mount Cerezo. This micro-terroir is truly exceptional, because it shelters the grapevines from excessive heat.
As we said, Monastrell (Mourvèdre) is the primary grape varietal used by the Juan Gil winery. The company also crafts wines from Cabernet Sauvignon, Syrah, Merlot, and Petit Verdot grapes. All together, the winery owns 350 hectares of vineyards situated between 700 and 850 meters above sea level. This terroir enjoys a continental micro-climate despite its proximity to the Mediterranean Sea. Soils are composed of sand, loam, clay and limestone, and have very low levels of organic matter. Thus, they are perfect for grape cultivation, as they keep the grapevine roots moist despite low rainfall and long exposure to sunlight.
All of the Monastrell wines by the Juan Gil winery display gorgeous colours and enchanting aromas. Well-balanced and refreshingly mineral, these Spanish Monastrell-Mourvèdre wines present a perfect expression of this grape variety.
Founded in: 2002
Address of Winery: Ctra. de Paraje de la Aragona
City: Fuentealamo
Province: Murcia
Country: Spain
Phone Number: (+34) 968 435 022
Does this winery offer guided tours? No
Does this winery offer tourist services? No