Cava Maria Casanovas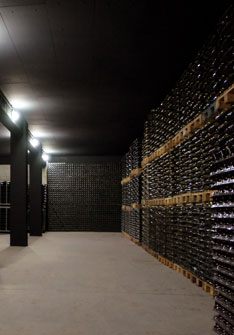 The Cava Maria Casanovas winery has become well known for their high quality Brut Nature cavas.
The Maria Casanovas winery produces very high quality Brut Nature cavas which are crafted from grapes that this winery produces on their 9 hectares of grapevines situated in the heart of the Penedés D.O. in Spain. These excellent Spanish cavas are crafted from a very high quality wine base, with artistic and revolutionary coupages, all crafted and blended with the goal of only releasing the highest quality of cava possible under the María Casanovas del Penedés label.
María Casanovas herself founded this winery in 1984 as a new venture after decades of winemaking experience. The cavas by María Casanovas were introduced to the world with the unique intervention of the youngest winemakers in this family. Over time the María Casanovas winery became well-known for their products and began selling their wine all across Spain and eventually into grand international markets.
These cavas are being produced in Sant Sadurní d´Anoia, the capital of cava. The specific soils and Mediterranean micro-climate at this winery´s 9 hectares of grapevines are perfect for the cultivation of their native Xarel-lo grapes along with the Parellada, Macabeo, Chardonnay, and Pinot Noir grapes that this winery cultivates as well. All of these grapevines are protected by natural Mediterranean vegetation which grows alongside the grapevines in the vineyards.
The cavas from the María Casanovas winery are either Reserve or Grand Reserve cavas that have been crafted from the native grape varietals of the Penedès DO of Spain: Xarel-lo, Macabeo, and Parellada. Furthermore, the María Casanovas winery was the founder of incorporating Pinot Noir into cava from this region (into a traditional coupage of Xarel-lo, Macabeo, and Parellada). The cavas by María Casanovas that feature Pinot Noir are refined in nature with a grand elegance and these cavas also feature Chardonnay with adds grand complexity
Founded in: 1984
Address of Winery: C/Montserrat, 117
City: Sant Sadurní d'Anoia
Province: Barcelona
Postal Code: 08770
Country: Spain
Phone Number: (+34) 938 910 812
Does this winery offer guided tours? No
Does this winery offer tourist services? No