Caves Recaredo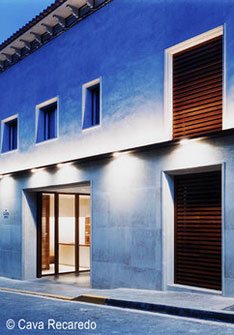 The Caves Recardeo winery has gained international prestige with their elegant cavas crafted by the Mata family. This winery produces a variety of cavas that are known for their long crianza ages, the use of oak in their vinification, and the great dryness of the cava (depending on the vintage).
The Caves Recardeo winery helped to pioneer the production of cava in Spain. This was one of the first wineries to craft a completely dry cava with their Cava Brut Nature Recardeo vintage. Furthermore, this was one of the first wineries to use oak in the vinification process for cava, and they also pushed the limited of long crianza ageing. Josep Mata Capellades is in part responsible for this winery´s revolutionary winemaking practices. In 1924 Mr. Capellades presented his personal seal for the Caves Recardeo winery and today the third generation of the Recardeo family still uses this seal for their cavas. The "Can Recaredo" can be found in the historic books of Sant Sadurní d´Anoia in Alt Penedès with recognition dating back over 80 years. The Caves Recardeo is still maintaining their original tradition of revolutionary wine making.
Today the Cavas Recaredo winery has 50 hectares of their own Xarel-lo, Macabeo, Parellada, Chardonnay, Monastrell, and Pinot Noir grapevines for the production of their cavas and white wines. In addition this winery also cultivated Cabernet Sauvignon and Tempranillo (Ull de Llebra) grapes for their red wine vintage Els Raustals. These grapevines are located in Sant Sadurní d´Anoia at 6 different vineyards and they are all situated between 600 and 1,000 feet (180 and 300 meters) above sea level. These grapevines are cultivated with the least human intervention possible. By this means no pesticides or fertilizers are ever used at these vineyards and all of these grapes are always cultivated organically in a sustainable manner.
The sparkling wines by the Cavas Recaredo winery are crafted in a unique manner for each vintage. It is important to note that all of the cavas by this winery are Brut Nature cavas and this winery handles 100% of their vinification, cultivation, and crianza ageing process themselves. These cavas are bottle aged with a sealed cork and the disgorgement process is realized by hand through the freezing of cavas through the neck of its bottle.
Founded in: 1924
Address of Winery: c/ Tamarit, 10
City: Sant Sadurní d'Anoia
Province: Barcelona
Postal Code: 08770
Country: Spain
Phone Number: (+34) 938 910 214
Does this winery offer guided tours? Yes
Does this winery offer tourist services? No