Celler Xavier Clua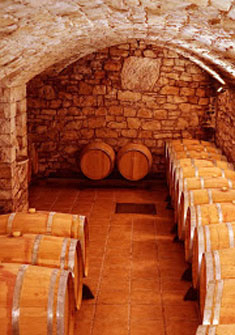 The wines of Celler Xavier Clua are traditionally conceveid and impeccably executed.
In 1995, Mr. Xavier Clua decided to transform the family business of bulk wine sales into a fine wine producing company. Over the next years, he carried out a thorough study of tge family vineyards to identify the best plots, bought state-of-the-art winemaking equipment, and upgraded the traditional household winemaking techniques. Finally, in 2006, Mr. Clua and his wife Rosa Dimènech decided to expand the facilities in order to meer the ever-increasing production needs.
Located in Vilalba dels Arcs, DO Terra Alta, a sun-drenched area in the southern Catalan province of Tarragona, the vineyards of Celler Xavier Clua have very poor soils composed of clay and limestone. The winery grows both local and international varieties, such as Grenache, White Grenache, Hairy Grenache, Cabernet Sauvignon, Chardonnay, Sauvignon Blanc and Syrah. Vinification is very precise, and the company prides itself on keeping up with the latest wine technology.
The old headquarters of Celler Xavier Clua, where guests are received for cellar visits and wine tastings, is in the historic centre of Vilalba dels Arcs. The new winery, where wine is actually made, is located on the outskirts of the town.
Year of foundation: 1995
Adress: Vall de St. Isidre 41
City: Vilalba dels Arcs

Province: Tarragona
Zip code: 43782

Country: España
Phone number: 34 977 263 069

Guided visits? Yes
Wine tourism services? No
Designation of origin:
Red wine varieties:
Cabernet Sauvignon, Grenache, Hairy Grenache, Syrah.
White wine varieties: