Huerta de Albalá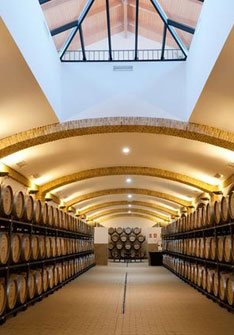 The Huerta de Albalá winery crafts expressive and refined wines in the sunny lands of southern Spain.
The Huerta de Albalá winery is based on three pillars that were established by their leading enologist, Vicente Tabener: perseverance, love of wine, and passion for the land. With these three pillars of excellence the Huerta de Albalá winery crafts great wines in Cádiz, south of exotic, beautiful Andalusia.
Huerta de Albalá's flagship wine is Taberner Nº1. This is a high-end red wine that very successfully demonstrates the fact that Andalusia is not only the land of Sherries, Creams and Amontillados. An exclusive wine that reflects the hard work of its creators and the passionate soul of their land.
Huerta de Albalá is a sophisticated winery that selects grapes and crafts its products in order to convey the maximum degree of truth and purity. Terroir-driven, complex and well-structured, these wines are known for their intense colours and their pure and unequivocal varietal expressions.
The Huerta de Albalá winery of Cádiz is located in Arcos de la Frontera, at an altitude of 150 metres above sea level. The building was built in a pure French Château style, and comprises 75 hectares of vineyards. 60% of them are Syrah, 20% are Merlot, 10% are Cabernet Sauvignon, and 10% are Tintilla de Rota, an interesting indigenous grape from the Cádiz region. The vicinity of the Borno reservoir and the Grazalema mountains provide a unique micro-climate for the vines. All varieties are cultivated and vinified separately to best serve each type of grape.
A couple of years ago, the Huerta de Albalá winery expanded their collection and launched the Barbazul (Bluebeard) wines. Barbazul is a red wine made from a blend of all the red grapes grown by the winery. Barbazul Rosado is a fragrant Spanish rosé entirely made from Syrah. Finally, Barbazul Blanco is a fresh Spanish Chardonnay.
Founded in: 2002
Address of Winery: Crta. CA 6105, Km 4
City: Arcos de la Frontera
Province: Cádiz
Postal Code: 11630
Country: Spain
Phone Number: (+34) 956 101 300
Does this winery offer guided tours? Yes
Does this winery offer tourist services? No