Winery Marqués de Riscal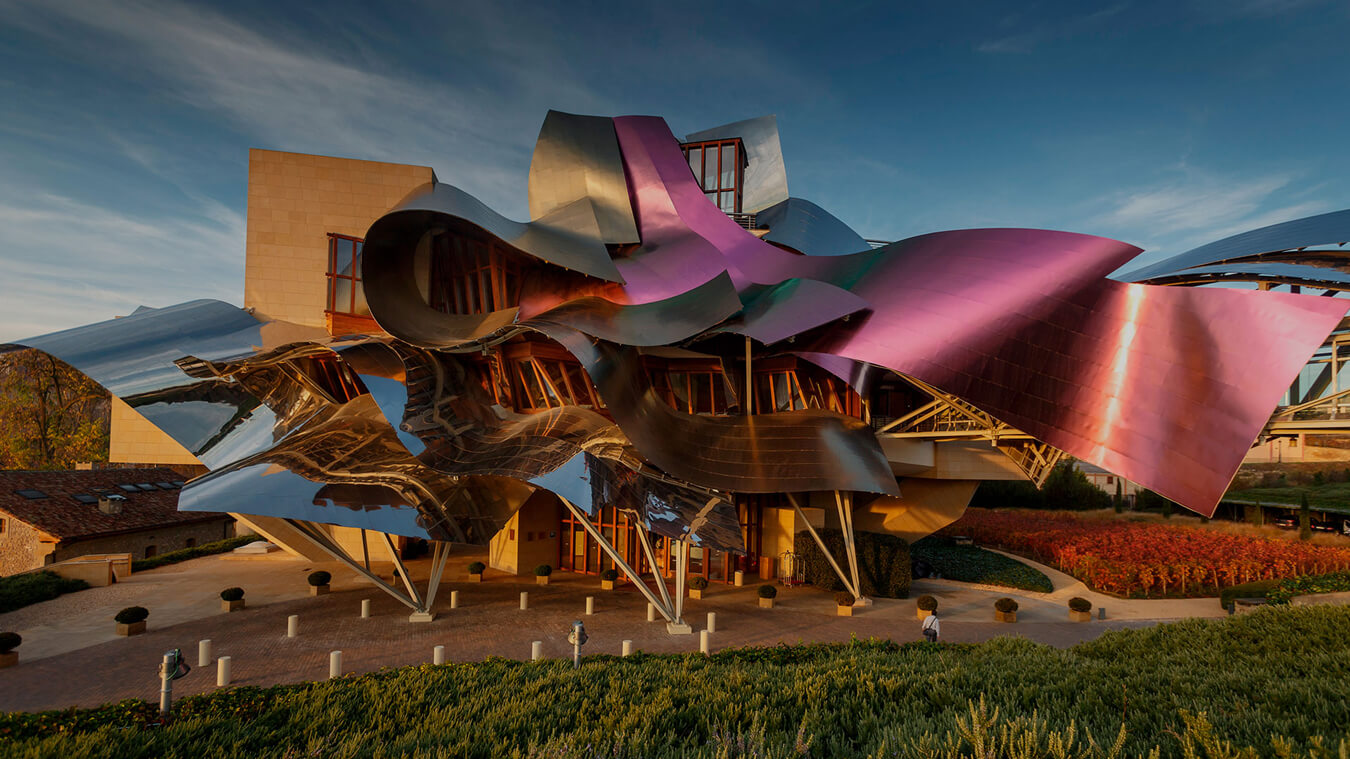 Of the oldest wineries in La Rioja, Marqués de Riscal wines are recognized worldwide. His incursions into Rueda and Castilla y León give us a new vision of his classic expression.
Mr. Camilo Hurtado de Amézaga, Marqués de Riscal, with vineyards and winery in Elciego and resident in Bordeaux since 1836, receives the order from the Provincial Council of Alava to establish Bordalese techniques in Rioja in 1858. It was 1860, with the help of a French winemaker, the Marqués de Riscal project became a reality, giving birth to its first wines in 1862. In a very short time, all Marqués de Riscal wines began to obtain their first accolades and awards, being the first non-French wine to obtain the Diploma of Honor from the Bordeaux Exhibition in 1865. After more than one hundred years of history, heirs of Marqués de Riscal from Rioja, already become a benchmark in their area, they decide to investigate in various Spanish regions producing quality white wines and with the help of Emile Peynaud, a French winemaker, establishes the first winery in Rueda dedicated to the production of Marqués de Riscal white wines, young, fresh and fruity tados, with a strong personality. It was in 1980, he promoter of the creation of the Denomination of Origin Rueda. In 1999, the first wine from the Land of Castilla y León by Marqués de Riscal was released.
The history of Heirs of Marqués de Riscal continues to be written in the 21st century with the construction on the premises of the winery itself of an original building designed by the architect Frank O. Gehry, one of the most important world architects. Among other uses, this building houses a high-class restaurant, a wine therapy area and a hotel.
Today, this large company works in three wine regions in Spain. The grapes used to make the red wines of Bodega Marqués de Riscal in DOC Rioja grow on 1.500 hectares, 500 owned and the rest of vineyards controlled by them. In Rueda, they have the largest vineyard owned by the denomination, 205 hectares, but they work with a total of 455 hectares, 250 hectares of which are vineyards of farmers in the area controlled by their technicians. And finally, the Heirs of Marqués de Riscal from Castilla y León wines come out of 198 hectares in the terms of Toro and San Román de Hornija.
Its greatest treasure is housed inside the mother winery, in Elciego, where La Catedral is located, a unique collection, made up of bottles of all the vintages produced by the winery, from its first harvest in 1862 to the day of today.