Bodegas Félix Callejo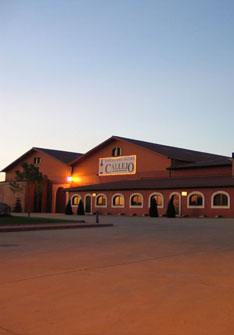 Heirs of a long winemaking tradition, the Callejo family craft elegant wines which are well-reflective of the terroir and the character of the Ribera del Duero DO.
The Bodega Félix Callejo winery currently owns nearly 100 hectares of vineyards spread out throughout several plots with different soil compositions in the Ribera del Duero DO, Spain. The hard work of the founder, Félix Callejo, is being continued by the next generation of the dynasty, as each one of his four children works in the family business. José Félix and Noelia are both enologists, Cristina is the export manager, and Beatriz is responsible for the sales department.
The red wines produced by the Bodegas Félix Callejo are crafted from Tempranillo grapes grown in a variety of different terroirs. The winery pays close attention to the expression of terroir, and so its oenologists use organic farming practices and have an environmentally friendly approach towards the winemaking process. One of the many features the winery places a particularly close attention to in order to convey a real sense of place through its wines is the use of indigenous yeasts in the vinification processes. These yeasts are generated by the grapes themselves without the use of chemical products, and they add a unique personality to these wines.
All of the wines from the Bodegas Félix Callejo winery are slowly but steadily positioning themselves on the market as high-quality alternatives to the great wine brands of the world. These are increasingly sought-after products, the production of which, moreover, is limited.
Concerning quality, it may not be unappropiate to remember that Félix Callejo 2003, received the astonishing Robert Parker score of 98/100.
Finally, the Félix Callejo winery in the Ribera del Duero DO also owns a small, almost secret 10-hectare estate called Finca Valderoble. This estate is located in the town of Sotillo, at an altitude of 930 meters above sea level. Grown in poor soils composed of chalk and stones and under an exceptional micro-climate, the vines produce grapes of the highest quality. This grapes are used to craft Finca Valderroble, a single-estate wine or, in spanish, "vino de pago", the highest quality distinction a Spanish wine can be labeled.
Founded in: 1989
Address of Winery: Avda. del Cid, Km. 16,400
City: Sotillo de la Ribera
Province: Burgos
Postal Code: 0 9441
Country: Spain
Phone Number: (+34) 947 532 312
Does this winery offer guided tours? Yes
Does this winery offer tourist services? No
Designation of Origin:
Grape Varieties: