Freixenet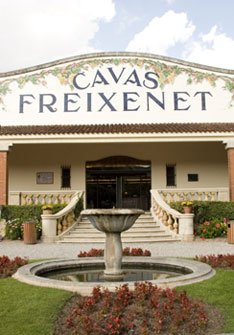 The Freixenet winery is one of the oldest wineries of Sant Sadurní. Their grand international success can be attributed to their grand collection of cava and famous advertising campaigns.
Who has never heard of the Freixenet winery? Who has never enjoyed one of the Bodega Freixenet cavas, during a large toast or in privacy? Who hasn´t celebrated Christmas with these cavas? Who has missed their brilliant commercials? Here in Barcelona we can´t find very many people living here who haven't, and coming from the world capital of cava, that's saying a lot.
The beautiful history of the Freixenet winery began in 1914 in Sant Sadurní d´Anoia, Barcelona, Spain, in the Alt Penedès when Pere Ferre Bosch began crafting all natural sparkling wines following a French champagne method to produce their cavas. The first bottles sold were marketed as Freixenet Casa Sala as Pere Ferrer Bosch was the son of the owner of the La Freixeneda winery in the same region. And along with his wife, Dolors Sala Vivé, daughter of the owners of the Casa Sala winery, the Freixenet winery became the first winery to export cavas from Sant Sadurní d´Anoia.
Freixenet is well known for their distinctive elaboration processes for their cavas, and they always maintain a traditional character and use native grape varietals from their region. In more recent years, however, they have begun to incorporate the foreign grape varietals Chardonnay and Pinot Noir. Their wide range of cavas includes Freixenet Brut, with distinctive elaboration processes for both young and long-aged cavas. This winery also the very popular sweet cavas with their semiseco and dulce vintages, as well as their enticing Freixenet Malvasía Dolç cava.
Over the years Freixenet realized grand success with very popular cavas such as Carta Nevada which was launched in 1941 as their flagship cava. Later in 1974 this winery released Cordón Negro which was distributed to over 140 different countries around the world.
Freixenet is a constantly expanding brand name and it is just a matter of time before they reach every wine consuming market on earth. This winery is one of the leading producers of sparkling wine from Cava, Spain, and all of these cavas are still produced from traditional methods. Today the Freixenet family still owns 100% of the company and Freixenet wines are now being produced in over 18 wineries situated in seven different countries around the world. In Spain, in addition to their winery in Penedès, they also have wineries in the Rioja, Ribera del Duero, Priorat, and Montsant.
Founded in: 1941
Address of Winery: Joan Sala, 2
City: Sant Sadurní d'Anoia
Province: Barcelona
Postal Code: 08770
Country: Spain
Phone Number: (+34) 938 917 000
Does this winery offer guided tours? Yes
Does this winery offer tourist services? No