Marqués de Alella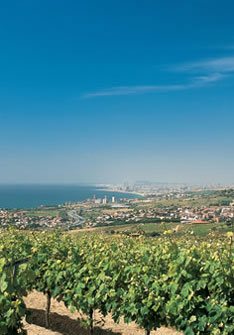 The Marqués de Alella winery is situated in the Alella D.O. of Spain which is a region with a grand tradition of producing white wine for its unique micro-climate, and it is just 12 miles (20 Km) outside of Barcelona.
The Marqués de Alella winery of the Parxet group was founded by Sta. María de Martorellas in 1980 along with Can Matons in a traditional 18th century Catalan "masía" style house. Ismael Manaut, an enologist who is still working with the Marqués de Alella winery today, crafted the first vintage released by this winery in 1981. In the year of 1987 the Marqués de Alella and Cava Parxet winery joined forces to found the Parxet S. A. and they started to commercialize their wines under the name Parxet. Today, the Parxet winery group has wineries in the Tionio winery in the Ribera del Duero, Basagoiti in the Rioja, and in Montsant, Portal del Montsant winery. Also they own the Mont-Ferrant winery.
In the Alella D.O. of Spain is one of the most traditional white wine producing regions of Spain and it is situated only 12 miles (20 Km) outside of the dreamy city, Barcelona. The micro-climate in Alella is very unique and perfect for grape cultivation with a fresh maritime breeze, tropical summer storms, and there is generally warmer weather than surrounding areas all year along the Serralada de Marina. This Spanish terroir features soils that are full of granite and clay which simultaneously helps to drain ground water as while preserving water at root level during dry months. This is generally a dry micro-climate.
While Marqués de Alella harvests their white grape varietals by hand and machine, they are always transported to the winery in small 44 pound (20 Kg) boxes to ensure that the grapes arrive in their best condition. All of these grapes then receive a selection process at this winery´s selection tables. The grapes are always pressed whole and this winery uses cold maceration processes to produce nuanced grape varietal sensations in their wines.
The philosophy of the Marqués de Alella winery is to present a loyal presentation of their native Pansa Blanca grape varietal while utilizing innovative technologies. This winery also incorporates the foreign grape varietals Chardonnay and Pinot Noir which are harvested from old grapevines that have low yields.
Founded in: 1980
Address of Winery: C/ Can Matons s/n
City: Sta. Maria de Martorelles
Province: Barcelona
Postal Code: 08106
Country: Spain
Phone Number: (+34) 933 950 811
Does this winery offer guided tours? Yes
Does this winery offer tourist services? No
Denomination of Origen:
Grape Varietales:
There are no products matching the selection.