Dominio do Bibei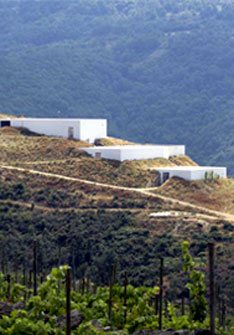 The Dominio do Bibei winery crafts artesian wines from the most pure winemaking tradition of the Ribeira Sacra region of Spain.
The Dominio do Bibei winery is crafting wines in a region that was selected by monks to live their lives in prayer and hard work. These valleys that are crossed by the Bibei River were the same valleys that the ancient Romans utilized revolutionary hydraulic engineering to explore the mines of Medulas and Montefurado. These ancient Romans also introduced winemaking in this region.
The Bodegas Dominio do Bibei winery in the Ribeira Sacra DO crafts new and elegant wines each year, as every year they add a new grape varietal to their production. All of these grapes are heavily impacted by their Atlantic terroir. The soils at these vineyards where toned by the hands of these winemakers themselves. These vineyards were cut out of steeply sloping hills in a terraced and staggered fashion. Sheep were used to help this process as the Ribeira Sacra region has very rugged terrain. These grapevines have ages that vary between 15 years and 100 years of age and they are situated between 1000 and 2,200 feet (300 and 670 meters) above sea level. These soils have a base of granite and slate, with some acidity, little organic matter, and a clay texture. This winery cultivates Mencía, Brancellao, Mouratón, Souson, Grenache, Godello, and Albariño grapes.
The Dominio do Bibei winery is located in Manzaneda, Ourense, and it founded in 2000 with the presentation of their first wine in 2002. This winery had underground facilities built to minimize their visual impact in the gorgeous region of Spain and this winery also used bioclimatic systems for their cooling processes. Furthermore, this winery utilizes the natural slopes of their land to utilize gravity powered vinification processes with the grape must and wine. This provides for unique density in some of their wines.
The artesian wines by the Dominio do Bibei winery are principally crafted from either Mencía or Godello grapes, and there are also single varietal Lacima (with some Brancellao) and Lapena grapes. The red wine, Lalama de Bodega Domino do Bibei is one of the most familous red wines of Galicia and it is crafted mainly from Mencía grapes with some Grenache, Brancellao, and Mouratón grapes in the coupage as well.
In its beginnings, this Galician winery was advised by Sara Pérez and René Barbier, both members of distinguished Priorat wine dynasties. Together, they own Venus La Universal, a winery based in Montsant. Besides, Sara Pérez is at the head of Mas Martinet, while René Barbier is in charge of the legendary Clos Mogador winery.
Founded in: 2000
Address of Winery: Langullo s/n
City: Manzaneda
Province: Ourense
Postal Code: 32781
Country: Spain
Phone Number: (+34) 627 071 544
Does this winery offer guided tours? No
Does this winery offer tourist services? No