Marqués de Vizhoja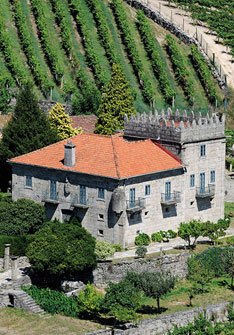 Marqués de Vizhoja crafts all of its wines from grapes grown in the 38 hectares of vineyards that surround its beautiful, French chateau-style winery.
The Marqués de Vizhoja winery is the realization of a dream. In 1975, Mariano Pelaéz purchased Pazo de la Moreira, a fortress built in the 18th century. After a long refurbishment process, the ancient fortress finally became the headquarters of the Marqués de Vizhoja winery.
Located in the midst of a beautiful natural environment, the French chateau-style building is surrounded by 38 hectares of estate vineyards planted along the banks of the Miño River in the Tea county.
The white wines by the Bodega Marqués de Vizhoja winery are mainly crafted from the indigenous grapes Albariño and Loureiro and marketed under the Rias Baixas Designation of Origin. They are fresh, fruity, and floral.
In addition to the wines, Marqués de Vizhoja also produces the traditional Galician Orujo, which is a pomace brandy made from the solid remains left after the pressing of the grapes. This brandy, along with other delectable liquors, are ideal for mixing with coffee. Recently, the winery also launched the Gotas del Marqués brandy in monodose packaging.
Founded in: 1966
Address of Winery: Finca la Moreira
City: Arbo
Province: Pontevedra
Postal Code: 36430
Country: Spain
Phone Number: (+34) 986 665 825
Does this winery offer guided tours? No
Does this winery offer tourist services? No