Castillo de Perelada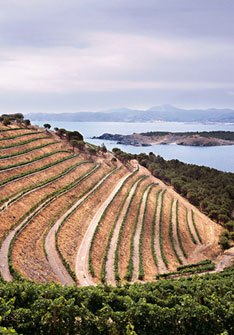 All of the wines by the Castillo de Perelada winery are crafted with the aim of achieving the ultimate expression of the Empordà soil.
In 1923, the facilities of the Castillo de Perelada winery were constructed inside of a XIV century castle (the name "Castillo de Perelada" literally means "Castle of Perelada"). The winery was founded by Miguel Mateu Pla, the man who revitalized the winemaking tradition in Empordà, one of the oldest winemaking regions of the Iberian Peninsula. The growing of grapes in Empordà dates back to the 5th century BC, when the region was colonised by Greek settlers. Over the years, Don Miguel's son, Arturo Suqué, took control over the family business, which is now being run by Miguel Mateu's grandson, Javier Suqué Mateu.
Today, the Castillo Perelada winery has several facilities that craft a wide range of wines under the same brand name, featuring wines from different D.O.s around Spain. This group of wineries consists of Castillo Perelada in the Empordà DO, and Cims de Porrera and Casa Gran del Siurana in the Priorat D.O.
All of the wines by the Castillo de Perelada winery are crafted with the latest winemaking technology available in order to convey the true essence of the Empordà terroir. This northern Catalan region located near the French border has many different kinds of soils, an abundance only found in very few areas around the world. To name only a few, in the Empordà region there are soils composed of sand, slate, fluvial sediments, silt, clay, and gravel. These unique soils, along with the mild climate, bring an amazing diversity of nuances to the grapes.
Castillo de Perelada not only produces wines, but also the Cava Castillo de Perelada. This sparkling wine is crafted in a traditional manner with native grape varieties.
During the 1990´s the Bodegas Castillo de Perelada winery made the decision to craft only high quality wines, regardless of the costs. By virtue of that decision, all of the red wines by Castillo de Perelada became estate wines. Today, this winery is crafting very high quality wines that have an unmistakable character, and are well-representative of their terroir.
Founded in: 1923
Address of Winery: Plaça del Carme, 1
City: Peralada
Province: Girona
Postal Code: 17491
Country: Spain
Phone Number: (+34) 972 538 011
Does this winery offer guided tours? Yes
Does this winery offer tourist services? Yes